History Of The Ranch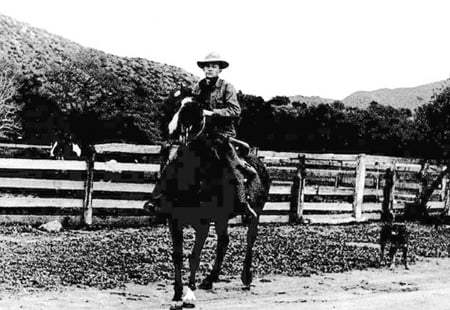 Holy Cow Performance Horses is located at the Breeding Facility on the San Lucas Ranch. For a visual tour of some of the unique features of this historic ranch, please visit the San Lucas Ranch web site.
Cattle ranching has, traditionally, required the use of horses to move cattle from pasture to pasture, to separate and doctor ill cattle and to separate cows and calves for sale. We are firmly committed to preserving that tradition. The modern sports of cutting, reining and reined cow horses evolved from ranching activities. With the continuing loss of agricultural operations country wide due to onerous taxation and environmental legislation, we have made a conscious choice to buck the trend. It is our goal to continue the equine genes that produce champions in these disciplines. Our herd may not be the largest, but it includes some of the finest breeding lines available. We have purposefully selected the very best mares who have shown that they are capable of being a champion. The next few years will show us whether they pass this on to their offspring.

Because of our ranch background, we have the ability to expose our horses to more varied experiences making them more versatile and well-rounded physically and mentally. Because of our personal knowledge of the show horse lifestyle, we are able to fine-tune each individual horse to the discipline each is suited for. Our ultimate goal is to produce each year a select group of foals from outstanding bloodlines who can excel in cutting, reined cow horse, reining or ranch events.